When he saw what was going on, he knew he had to step in…! Please don't scroll without giving him some love!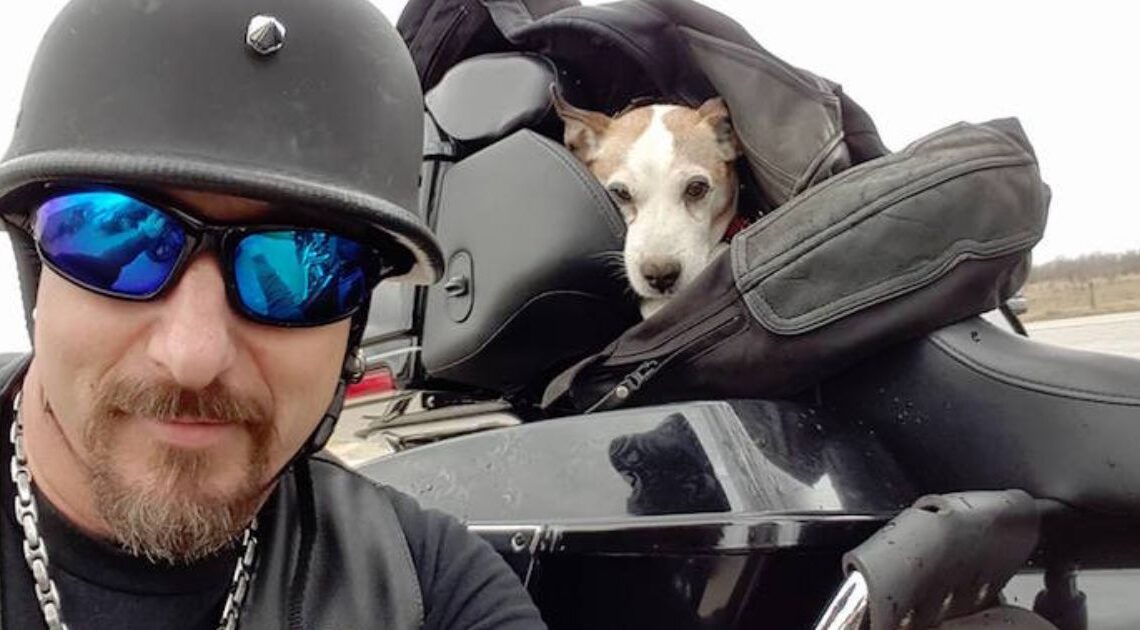 Brandon Turnbow, as a true man, is ready to intervene when he sees someone being [a.bu.sed]!
On Valentine's Day, a day when people usually show their love to each other, Turnbow was riding his motorcycle on Highway 171 in Texas at the moment, and he planned to meet his father for a day of biking when he saw a [cr.uel] man be.ating a small puppy.
Turnbow was stunned, and he decided to pull over and talk to the other man, but before he could say anything, the man threw the dog onto the curb and drove away, leaving Turnbow and the shivering puppy behind.
Turnbow was afraid the dog would run into oncoming traffic, but it didn't. He approached the dog, hoping the dog would trust him; fortunately, the dog recognized Turnbow's kindness and snuggled into his lap!
When Turnbow saw the dog's big eyes staring at him, he knew he couldn't go on without this puppy by his side!
He decided to pack the puppy in his pocket, start the motorcycle first to get the puppy used to the vibrations, and bring the puppy to meet his father. He posted this story on Facebook after he got home.
And I now have a CC-pilot — please welcome Mr. DAVIDSON.
The dog is named after his Harley-Davidson motorcycle, and the dog, coincidentally, loves the motorcycle as well!
The puppy has settled into Turnbow's home two years after being rescued and is smitten with his new father, who even wrote a sweet song about the puppy to show his affection!
Perhaps fate has brought them together, and they find each other in sincerity and unconditional love, and nothing can br.eak this wonderful love!!!
Thank you for saving this po.or wee dog, you are a beautiful, kind, caring soul
God bless both of you!!!
Please SHARE to pass on this story to a friend or family member!